POST IT – a world exhibition
18 september– 10 oktober 2010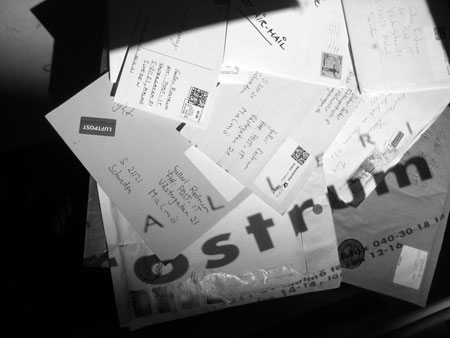 Galleri Rostrum bjuder in till 
Vernissage Lördag 18 sept 12-16

Efter vernissagen blir det fest med mat, mUSAik, gårdshäng och mingel!!!!
I vintras skickade Galleri Rostrum, på initiativ av konstnär Jon Åkerlind, medlem i Galleri Rostrum, ut en inbjudan som en budkavel runt om i världen.
I juni började konstverken att droppa in i brevlådan.
POST IT-lådan fylldes mer och mer och vi är nu mycket stolta över att kunna visa ett stort antal konstnärer och deras verk, från jordens alla hörn, på vårt galleri.
Galleri Rostrum och POST IT-gruppen hälsar er Varmt Välkomna!!
World exhibition 2010
Jon Åkerlind and Rostrum
Gallery Rostrum invites to
Opening Saturday Sept 18   12-4 PM                                                                                                                                     
This winter Gallery Rostrum sent out an invitation as a chain letter message.In June the art pieces started to drop in. The POST IT-box started to fill up and now we are very proud to show a big number of artists, from all over the world,at our gallery.
Participants:
1.  BARBARA WOLTERS/ Germany-utan titel
2.  MARTIN ASKHOLM/ Denmark-Road Pyaramid
3.  DIETMAR BECKER/ Germany-Day
4.  ANNA ZIARNIEWICH/Ireland-Fog
5.  SVEINUNG R UNNERLAND/ Norway-utan titel
6.  ARNE VINNEM/ Norway-Schadenfreude
7.  OLOF HERPELL/ Germany-utan titel
8.  MARIA LAVMAN/ Sweden-utan titel
9.  BIRTHE REINAU/ Denmark-utan titel
10. JENNY YURSHANSKY/ USA-I´m so sorry
11. MONA MALMSTRÖM/ Sweden-Thank you and good bye
12. GERTIE MÅNSSON/ Sweden-Par avion
13. KATHARINA BACH/ Gernany-Weite und weg
14. TAMARA MALMESTRÖM/ Sweden-Omvägskarta
15. VICENTE PASTOR/ Spain-utan titel
16. MAYUKO SUMIOKA/ Japan-utan titel
17. ELISABETH BLOMBERG/ Sweden-utan titel
18. JUAN MANUEL RODRIGUES/ Uruguay-utan titel
19. CECILIA KRISTENSEN SERING/ Sweden-Sett i månljus
20, MASATA SUNAMI/ Japan-Sea
21. MATTIAS GUNNARSSON/ Sweden-Spår av ett rum
22. YOSHIHISA SANO/ Japan-Way encounter
23. ANDREA PREGEL/ Italy-Bad medicines
24. JOSHIO KURIKI/ Japan-utan titel
25. ELIZABETH ZVONER/ Canada-Elephant
26. HIROTAKA ICHIKAWA/ Japan-Shine
27. NAHTE/ Sweden-Time travel
28. HOLGER LÖCHERER/ Germany-Onan
29. JON ÅKERLIND/ Sweden-Nyss
30. HIROSHI KATAYANA/ Japan-Surface of a room
31. SAMIRA YAMIN/ USA-utan titel (Swatch)
32. RYOHEI OBATA/ Japan-utan titel
33. ELISABETH BAUMGARTNER/ Germany-Kroppa
34. HENNING GAIS/Germany-Night worting
35. BODIL ANDERSEN PORSE/ Denmark-Mumlende skinger eller sensuel?
36. SYLVIA DALLMANN/ Germany-utan titel
37. MEDHA P. SATPALKAR/ India-Stigma in condom
38. RAGHU R KONDUR/ India-utan titel
39. INGA HEAMÄ/ Estonia-Recycled saint
40. JYOTEE PREM MAJURASAN/ India-utan titel
41. JENS D. NIELSEN/ Denmark-utan titel
42. LYNNE HAAGENSEN/ USA-Western
43. STEVEN BOELEN/ Belgium-utan titel
44. AGNETA SCHMIDT/Sweden-Landskap
45. PETER AMICI/Switzerland-Dessin e crayon
46. EWA BERG/ Sweden-utan titel
47. GRUBE/ Gremany-utan titel
48. PATRIK GYLLANDER/ Sweden-utan titel
49. JAQUELINE HOANG NGUYEN/ Canada-utan titel
50. JORGE KUHN/ Chile-utan titel
51. ULRIKE RIEDE/ Germany-Kitchen
52. JAZMINA LLOBET & LUIZ
      FERNÁNDEZ PONS/ Spain-utan titel
53. NEHA SHARMA SARAI/ Belgium-Buried signs
54. CLEMENTE PADIN/ Uruguay-utan titel
55. ANDREW LEE/ Canada-But I told you not to
56. MIA KALLIO/ Sweden-utan titel
57. PATRICIA BENTANCUR/ Uruguay-utan titel
58. SILVIA CHRISTINE FOHRER/ Germany-utan titel
59. TUSS Marie LYSÉN/ Sweden-En sång till Jorden
60. NICOLE CAPPS/ USA-Smaller students loan bill
61. MERCEDES BUSTELO/Uruguay
62. SVERRE STRANDBERG/ Norway-utan titel
63. TINA UHRSKOV/ Denmark                                           Konstantinapolitanerinden                    
og katteperspektivet
64. FRITZ P. KELM/ Germany-utan titel
64/b. MAGDOLNA SZABÓ/ Sweden-Self-portrait
65. BÄRBEL KASPEREK/ Germany-utan titel
66. YUDI YUDOYOKO/ Uruguay-utan titel
67. LISBETH VAN DEURS/ Denmark-utan titel
68. RUDOLF  J  KALTENBACH/ Germany-utan titel
69. GUNNAR KLENKE/ Germany-utan titel
70. CRISTINA CASABÓ/ Uruguay-You are more pretty
71. DIRK EHRHARDT/ Germany-D.EH maschine 21.1990 keine antwort
72. TORIL JOHANNESSON/ Norway-utan titel
72/b. GISELA ERIKSSON/ Sweden-utan titel
73. LILIANA MADFES/Uruguay-utan titel
74. ISABEL THESELIUS/ Sweden-Heartbreaker
75. LEANDRO ZIMA BEJAR/ Uruguay-utan titel
76. NIKE NILSSON/ Sweden-Killer
77. ALBERTO LASTRETO PRIETO/ Uruguay-Deranged shields
78. MEGAN LOTTS/ USA-Fine Arts Librarien – Plank Series
79. ALEJANDRO CRUZ/ Uruguay-Tomar medidas
80. KJELLAUG HATLEN LUNDE/ Norway-utan titel
81. RAOUL MEEL/ Estonia-utan titel
82. ROBERTA SEGATA/ Italy-The tree
83. LOIT JOEKALDA/ Estonia-Labyrinth XXIC
84. RIKKE LUTHER/ Denmark-Learning site
85. DIETMAR BECKER/ Germany-Night
86. CHRISTEL LUNDBERG/ Sweden-Outdoor library
87. FREDRIK LINDQVIST/ Germany-utan titel
88. BØJE PREJSLER HANSEN/ Denmark-Lofotens bjerge
89. JAIME ODDO/ Chile-La cruz del sur
90. MICHAELA ZLAITER/ Germany-utan titel
91. GERT PETERSSON/ Sweden-utan titel
92. KRISTIN SKRIVERVIK/ Norway-Förbindelser
93. POUL EKSTRAND/ Denmark-Mitt namn är sol
94. BJÖRK GUDNADOTTIR/ Iceland-Kennsl
95. JUDITH MACRIPP-JOHANNSEN/Denmark-Reflection
96. GURI ANKERDOTTIR/ Norway-Självporträtt
97. BARBRO HEMER/ Sweden-utan titel
98. PATRIK STENSSON/ Sweden-Begreppen
99. SHAMALA NANDESH/ India-The silent speech
100. HANNA STAHLE/ Sweden-World art express
101. LANCE LUSCHNIG/ USA-The white bull
102. BRITTA KJAERULFF/ Denmark-Three with fruits
103. CAMILA A. FONEILLAS FLORES/ Spain-utan titel                     
104. MARIA HORNSHØJ/ Demnark-Splash
105. ELISE BERKVENS/ Belgium-Flat tresure land
106. NERINGA BUMBLIENE/ Lithuania-utan titel
107. MIKIYA TOKUDA/ Japan-Portrait of philosopher duck
108. MARIANN THYMANN SCHOOP/ Denmark-utan titel
109. JUKKA VÄRELÄ/ Sweden-Homework
110. KATTI LUNDH/ Sweden-Alltings mått
111. ANETTE GLÜCK/ Germany-Natur spontan
112. PETER TANG/ Denmark-utan titel
113. RUDY LUTON/ USA-Phases
114. CARLOS MATUCK/ Brazil-Motherland child 2
115. NANDESHA SHANTI PRAKASH/ India-Schooling
116. MICHAEL BREDTVED/ Denmark-När jag bliver voksen
117. METTE HANSEN/ Sweden-dear world
118. EMMA GUNNARSSON/ Sweden-utan titel
119. ALEXIS DISSELKOEN/ USA-Storybook pages, a calendar
———————-
PRE PRODUCTION
Jon, Monix, Pepe och Christel unpacks art pieces at Gallery Rostrums backyard!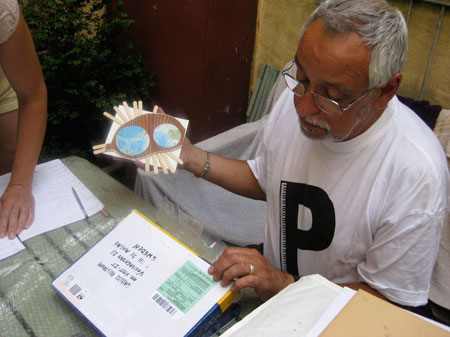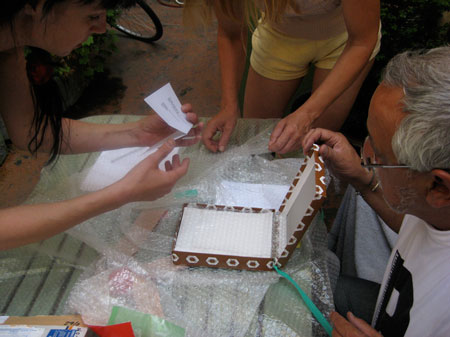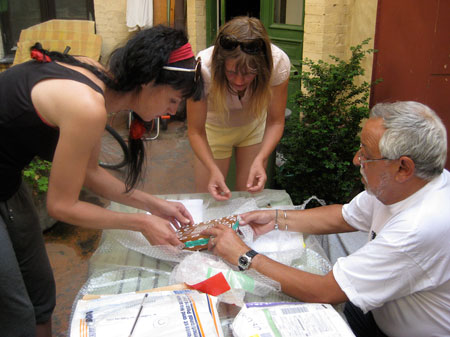 >