Artbus
FRUKTO PARADIZO Christel Lundberg/Sabina Jallow September-oktober 2012 Malmö – Visby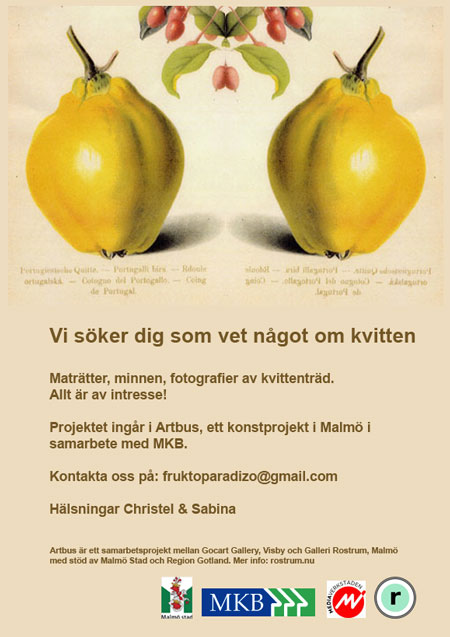 Frukto Paradizo, kvittenträd som planteras på den offentliga platsen som bärare av tid och kultur.
FRUKTO PARADIZO, ett interaktivt konstprojekt med utgångspunkt i Joseph Beuys begrepp om sociala skulpturer för att utforska konstens potential som igångsättare av samhälleliga förändringar.
Frukto Paradizo är esperanto och betyder Fruktens paradis.
Bostadsområdet vi valt att plantera detta kvittenträd på agerar värdplats för en allmänmänsklig tanke.
Christel Lundberg i samarbete med Sabina Jallow. De har tidigare samarbetat i projektet Koloniträdgården på S:t knuts torg, en koloniträdgård i det offentliga rummet, öppen för alla att använda dygnet runt på ett centralt torg i Malmö, 2003.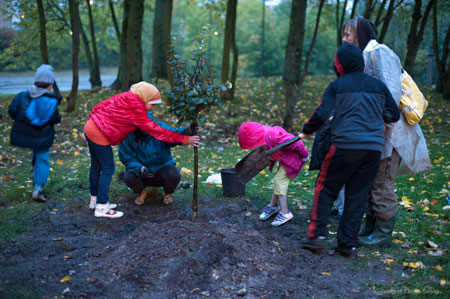 Dokumentation: 2012 Cecilia Sering
Malmö: Herrgården, Segevångstorg och Nydala torg
26— 28 september 2012 kl 16 – 22
Deltar i Gallerinatten Malmö 29 september
Visby: Roma äldreboende och Almedalsbiblioteket 17 – 19
Deltar i Kulturnatten Visby 6 oktober 2012
Frukto Paradizo ingår i konstprojektet Artbus
—————
Fructo Paradizo, quince trees planted on the public site as a carrier of time and culture.
Fructo Paradizo, an interactive art project based on Joseph Beuys concept of social sculpture to explore the potential of art as initiator of social change.
Fructo Paradizo is Esperanto and means the fruit paradise.
The residential area we have chosen to plant trees on is acting host to a universal human thought.
Christel Lundberg in collaboration with Sabina Jallow. They have previously collaborated on the project Allotment Garden at St. Knuts square, one allotment in the public space, open for anyone to use around the clock in a central square in Malmö, 2003.
Malmo: Herrgården, Segevångs torg and Nydala torg
September 26- 28, 2012
Participates in Gallerinatten Malmo September 29
Visby: Roma Äldreboende and Almedalsbiblioteket October 5
Participates in Kulturnatten Visby October 6, 2012
Fructo Paradizo is part of the art project Artbus
FRUKTO PARADIZO from Outdoor Library on Vimeo.
ARTBUS 2012 görs med stöd av Malmö Stad och Region Gotland, MKB, Mediaverkstaden Skåne