_______________________________________________________________________
MESH
Martina Funder, Peter Kozek, Cornelia König, Barbara Szüts & Michael Wegerer
Ett utbytesprojekt mellan Galleri Rostrum och Kunstverein Baden, Österrike.
Varmt välkomna till vernissage 10 februari kl. 12-16
Artist Talk kl. 14
Utställningen pågår 10 februari – 4 mars 2018
Öppet: tors–fredag kl. 14–18 & lör–söndag kl. 12–16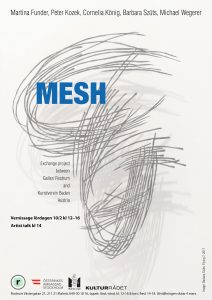 Galleri Rostrum presenterar fem konstnärer från det konstnärsdrivna Kunstverein Baden.
Under 2017 var Kunstverein Baden utställlningsprogram centrerat runt tematiken frihet och fokuserade på de olika sätt frihet kan i det fördolda omvandla sig till en form av mer eller mindre frivilligt slaveri. 2018 följs detta fokus upp med Barthes tema om att bo tillsammans i grupper, vilket inkluderar individens frihet. Med andra ord den dialektala avståndet och samhörighet eller åtminstone medvetandet av att en specifik gemenskap och samhälle inte behöver upplevas som sådan – en "community of those who have no community," som Georges Bataille uttryckte det. Detta tar oss helt och hållet tillbaka till frågan om frihet.
I sin självbetitlade föreläsningsserie vid Collège de France för 40 år sedan, undersökte Roland Barthes individens "idiorhythmias" i grupper för olika beröringspunkter genom litterära exempel. Bland dem fanns Thomas Manns The Magic Mountain, som under ljuset av mekanismernas tid undersökte en samhällsbildning av individer förenade i ett mikrokosmos av bergens sanatorium på obestämd tid – där den individuella rytmen överlappar med existerande allmänna strukturer. Där det i slutändan visar sig att det trevliga samhället utanför "flatlands" är en storslagen illusion.
Så mycket är tydligt – att det sätt vi lever på tillsammans kan endast vara en experimentell uppsättning. De fem medlemmarna i Kunstverein Baden fokuserar på samexistensens genom "idiorhythmias"  från olika vinklar.
Utställningen innehåller verk av Martina Funder, Peter Kozek, Cornelia König, Barbara Szüts och Michael Wegerer där fyra av konstnärerna kommer att vara på plats på Rostrum.
Se mer på www.kunstvereinbaden.at
Detta är ett utbytesprojekt som syftar till att fördjupa en dialog och utbyta erfarenheter mellan de båda gallerierna, som inleddes under våren 2016.
Varmt Välkomna!
______________________________________________________________
The 2017 annual programme of the Kunstverein Baden (Art Association of Baden) centred on the issue of freedom and the ways in which freedom can surreptitiously transform itself into a form of more or less voluntary bondage. This is followed in 2018 by a focus on Barthes's theme of living together in groups, which includes the freedom of the individual; in other words, the dialectic of distance and commonality, or at least the consciousness of a certain community that does not need to be lived as such − a "community of those who have no community," as Georges Bataille put it. And that brings us squarely back to the matter of freedom. In his eponymous lecture series at the Collège de France 40 years ago, Roland Barthes investigated the individual "idiorhythmias" in groups for various touchstones by means of literary examples. Among them was Thomas Mann's The Magic Mountain, examined in light of the mechanisms of community formation of individuals united in the microcosm of a mountain sanatorium for an indefinite period of time − with individual rhythms of their own that overlap with the existing common structures. Ultimately, the pleasant community outside of the society of the "flatlands" proves to be a grand illusion. This much is clear − the way we live together can only ever be an experimental arrangement.
The five members of the Kunstverein Baden focus on the idiorhythmias of coexistence from different angles. The video Koo-Koo, the Bird Girl by Peter Kozek (kozek hörlonski) deals with questions of solidarity in human communities. At the Kunsthistorisches Museum in Vienna, the artist duo had their hair shaved off and then glued to their faces, arms and legs, drawing on 16th-century paintings located in Innsbruck's Ambras Castle that depict a family afflicted with a hereditary disease which resulted in the entire body being covered with hair. Thus, the members of that family were irrevocably branded as outcasts and objects for display.
Michael Wegerer's cyanotypes revive the process of iron blueprinting developed in 1839, a photographic processing technique that was later used in architectural offices in the form of blueprints. The first to master this process − and thus also the first photographer in history − was natural scientist Anna Atkins with her highly aesthetic plant photographs, who, however, failed to achieve due recognition in her day. With motifs from Thomas Morus' Utopia, Michael Wegerer's cyanotypes directly address the issues of social models of the ideal as well as their shortcomings.
Conversely, Martina Funder's work of glazed clay objects with imprinted footprints elicits questions about the movement of the individual in the social context, as well as questions concerning the search for and finding of paths, following in the footsteps of others, and also about how the individual positions himself in relation to his environment. In a different way, Barbara Szüts also deals with the individual. She freezes gestural drawings into complex milled aluminium objects freely suspended in the room, prompting the question as to what happens when emotion and spontaneity are detached from the spotlight of the moment and the moment is captured for eternity.
Finally, Cornelia König, whose pieces correlate image and text, transparency, opacity, and translucency, uses the full-length image of two persons rendered on two glass plates to capture the immediate theme of human connections and relationships. The colour of the mirror, which is a substitute for the faces, at once implies alienation, universality, and the possibility of identification; lines of text complete the ambiguous image. It is no coincidence that the common vernacular associates glass with the concept of happiness, both being of fragile nature. What shines through, what allows us to look in and to look through, what reflects our own image − this remains a complex interplay that is presumably as old as humanity itself − and to which Hans Castorp, the hero of The Magic Mountain, has already created a monument in the form of his own private icon: an X-ray of his beloved.
Text: Iris Meder
Translation: Jenny Weidenholzer