en rekonstruktion,
Supermarket 2017
Vernissage på Galleri Rostrum lördag 9 december kl 12–16
9 december kl 14  "Wink at me in the Street", en interaktiv performance. Längd ca 15 min.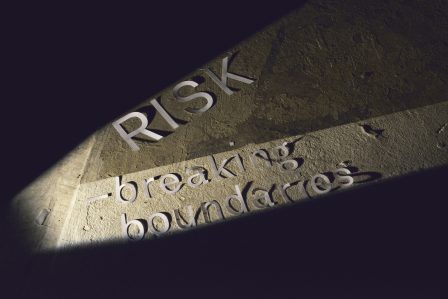 9 – 17 december
Öppettider:
Torsdag –Fredag 14–18
Lördag –Söndag 12–16
I varje konstnärlig rörelse, i varje steg i den konstnärliga processen, är risk närvarande.
De deltagande konstnärerna arbetar med temat individuellt.
Konstnärer:
Ewa Berg, Anna Jin Hwa Borstam, Cian Burke, Robbert Vera Ek, Gisela Eriksson, Hannah Federley Holmkvist, Roger Forslund, Sebastian Franzén, Lisbeth Grägg, Emma Gunnarsson, Patrik Gyllander, Barbro Hemer, Helena Juréen, Maria Lavman Vetö, Christel Lundberg, Tuss Marie Lysén, Gertie Månsson, Malin E Nilsson, Cecilia Sering, Carina Stankovich, Helga Steppan, Magdolna Szabó, Anders Stolt, Pepe Viñoles, Jukka Värelä, Jon Åkerlind
RISK
– breaking boundaries 
In every artistic movement, in every step of the artistic process, the risk is present. Present in order for us to move. We yet don't know were we are going, solely, because without the risk it is impossible to move, At all.
A risk – is a possibility of loss, but also a chance of meeting the unknown and the intimacy of closer honesty. It is a process where "Loss or gain" is present at the same time. The vulnerability is a chance.
In this project, the participating artists work with the theme of 'risk taking/ intimacy' in their own individual and different artistic practises. We are all breaking a boundary in order to achieve something unpredictable.
Utställningskommissarier: Tuss Marie Lysén och Christel Lundberg
Kontakt: info@rostrum.nu