Bodil Nielsen "Sunshine and Shadow"
FÖR VERNISSAGEBILDER SE HÄR/ STILLS FROM THE OPENING HERE!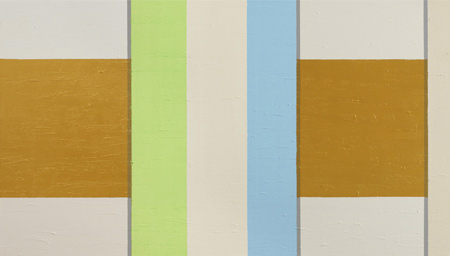 9 – 31 januari 2010
Välkommen på vernissage lördagen den 9 januari kl 12-16
Vi öppnar det nya året med Bodil Nielsen, en spännande konstnär från Köpenhamn som för första gången gästar Malmö. Hon skriver själv här om sitt arbete:
"Malerierne på udstillingen tager udgangspunkt det almindelige og fælles. Ornamenterne findes og genfindes, de er genkendelige, men samtidig åbne for nye fortolkninger, og kan derfor bruges til at skabe visuelle felter, på en måde så "billedet" samles og skabes som af sig selv for beskuerens blik.
Udstillingen vil bestå af nogle forholdsvis store og forholdsvis små malerier. Som udgangspunkt vil de forskellige formater manifestere sig forskelligt i rummet. De store formater vil opleves som værende tilstede på en meget direkte måde i rummet, mens de mindre formater i højere grad kan opleves som en slags modeller. De store formater kan man forholde sig til med sin krop, man deler rum med dem, mens de mindre formater, på en mere abstrakt måde, taler til forestillingen om andre rum, men måske netop ad den vej, kan de opleves som meget monumentale og rumlige. Og måske ophæves forskellene, de ornamentale formationer på maleriernes flader kan måske opleves som for store eller for små, som om de tilhører en verden i en anden målestok. Måske ophæves de kendte dualiteter, og man får i et glimt en mulighed for at se sig omkring med et fornyet blik?"
Bodil Nielsen bor og arbejder i København. För mer info se här!