Free Store
ROSTRUM & FREE  STORE (GRATISAFFÄR)
10 – 17 december 2010

Galleri Rostrum bjuder in till
ÖPPNING KL 18-22. DEN 10 DECEMBER
ÖPPET SEDAN VARJE DAG 12-18!
KOM SKÄNK. KOM TA. NO MONEY INVOLVED
EXTRA EXTRA!!! VI TAR INTE BETALT!!!!
HAR NI SAKER ATT SKÄNKA?
ALLT SOM BLIR ÖVER GER VI TILL SOPSTATIONEN.
HÄR KAN NI OCKSÅ HITTA JULKLAPPEN FÖR INGA PENGAR!!!
UNDER VECKAN HAR VI WORKSHOPS,
PERFORMANCE OCH LJUDSCEN.
VI BJUDER PÅ SOPPA PÅ ÖPPNINGSDAGEN!!
EXTRA EXTRA!!!  KOM TILL ROSTRUM FREE STORE!!!
FREE STORE drivs med inspiration av FREE STORES runt om i världen
 och kontakter med The Baltimore Free Store.
(för mer info: http://www.freestorebaltimore.org/ <http://www.freestorebaltimore.org/>  )
 Galleri Rostrum & FREE STORE hälsar er Varmt Välkomna!!
—————–
Fredag 17 dec kl 12-18 at Rostrum, Malmö
Galleri Rostrum & FREE STORE proudly exhibits "The Gift" Keith Stern Pirlot(US) and YNKB (DK)
Välkomna!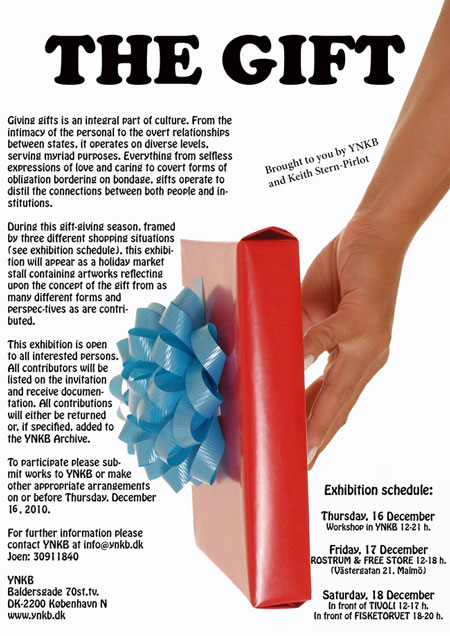 ———————-
Gaven
At give gaver er en integreret del af vor kultur. Det
opererer på forskellige niveauer fra den personlige intimitet til åbenlyse
relationer mellem stater. Gaver udtrykker relationerne mellem mennesker og
mellem institutioner, – alt fra uselviske udtryk for kærlighed og ømhed til
skjulte former for forpligtigelse grænsende til afhængighed.
Denne udstilling, som vil blive realiseret som en
installeret i tre forskellige shopping situationer, vil indeholde kunstobjekter
der reflekterer over gavens ide i
så mange forskellige former og perspektiver som der er deltagere.
Udstillingen er åben for alle interesserede. Alle
bidragsydere vil blive opført på invitationer og modtage dokumentation. Alle
bidrag vil blive returneret eller blive en del af YNKB's arkiv.
For at deltage skal man indlevere sit bidrag til YNKB senest
torsdag 16 december. Det går också bra att delta med gåvor på ROSTRUM & FREE STORE fredag 17 dec 12-18.
For yderligere oplysninger kontakt YNKB på info@ynkb.dk eller Joen; 30911840
Med venlig hilsen
Keith Stern_Pirlot og YNKB
Udstillingsplan:
Torsdag 16 december
Workshop i YNKB kl. 12 – 21.
Fredag 17 december
Rostrum & Free Store kl. 12 – 18
Västergatan 21, Malmö
Lørdag 18 december
Foran Tivoli kl. 12 – 17
Foran Fisketorvet kl. 18 – 20
——————————
Fredag 17 dec kl 20-21 at Rostrum, Malmö
Galleri Rostrum SCREENS "An Ordinary Family". En film av Fredrik Gertten (2005)
Välkomna! /Galleri Rostrum & FREE STORE
"An Ordinary Family"(Una Familia Como La Nuestra) . En film av Fredrik Gertten, 2005.
Dokumentärfilmaren Fredrik Gertten följer mellan 2002-2005 familjen Borroni, en medelklassfamilj som en gång hade allt och som nu tvingas kämpa hårt för att överleva dagen och ännu hårdare för att återerövra sin identitet och värdighet. De vänjer sig vid ett liv utan pengar, de försörjer sig inom den alternativa bytesekonomin, "el truque solidario".
An Ordinary family väcker frågor om individens utsatthet i en värld där spekulanter förmår försätta hela nationer i kris.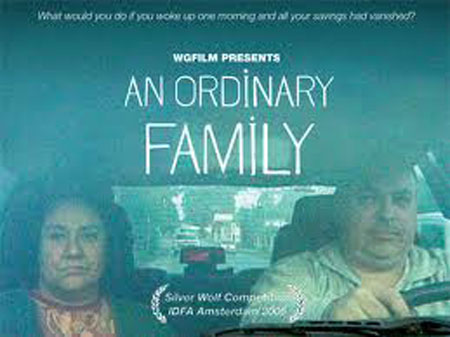 ———————————
FREE STORE LJUDSCEN
ROSTRUM & FREE STORE bjuder in till
FREE STORE LJUDSCEN
ONSDAGEN 15 DECEMBER 18-22
Medverkande:
Horse
Sofia Wickman
Pastor Eskil Thomsen
Malin Svensson
Pöntinen Nästesjö version, PNV via Stefan Pöntinen & Johannes Nästesjö
Helena Juréen
I.M.A. International Music Association via Peter Dacke, Ivan E. Vincze & NahTe
Jan Cardell & Wounded Knee
Hjärtligt Välkomna!
/Galleri Rostrum & FREE STORE