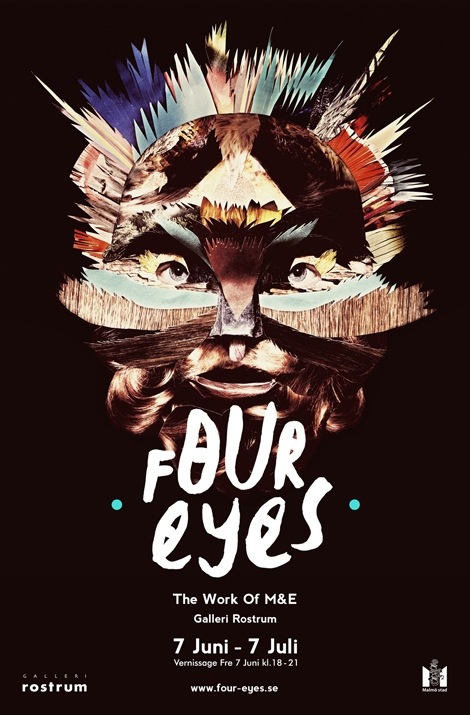 7 Juni – 7 Juli
Galleri Rostrum
Västergatan 21, Malmö
Vernissage Fre 7 Juni kl. 18-21
Sommaröppettider:
Tis-Fre 12-18,
Lör & Sön 11-16
M&E är en irländsk/svensk duo som rör sig i gränslandet mellan konst och design.
I sitt arbete använder de sig av många stilar inom fotografi, illustration, design och typografi,men bibehåller alltid en distinkt vision.M&E hämtar inspiration från naturen och utforskar människans roll i den. Deras uttryck beskrivs som en kombination av humoristiskt och olycksbådande. Färg och lekfullhet genomsyrar verken, men alltid med en underton av mörker och allvar.
I utställningen Four Eyes visas verk skapade för olika ändamål för första gången tillsammans och teman och återkommande symboler i M&Es bildvärld blir synliga.Porträtt med en övernaturlig atmosfär, människor som faller och ritualer med oviss följd skapar en stämning av oro, en möjlighet till både ett lyckligt och olyckligt slut. Många av verken är skapade i direkt relation till musik, litteratur, teater och dans. De har inte en entydig mening utan är öppna för tolkning och i vissa fall även för interaktion. En evighetsbox och en installation som utmanar balanssinnet ger betraktaren inblick i de metoder och anordningar M&E använder för att skapa optiska och mekaniska effekter. Utställningen omfattar fotografier, collage, illustrationer och installationer.
Matthew Bolger (f. 1979) och Emelie Lidström (f. 1981) bor och arbetar i Malmö.
De har studerat Visuell kommunikation vid Dublin Institute of Technology och Fine Art / Fotografi vid Dun Laoghaire Institute of Art, Design & Technology, Dublin. De har arbetat tillsammans sedan 2002 och har sedan dess medverkat i grupputställningar, hållit föreläsningar och workshops och publicerats i flera internationella tidskrifter och publikationer. De har även gjort ett flertal musikvideos och annat material för musikindustrin, från vilket flera av verken är hämtade.
Under vernissagen blir det musikframträdanden 18.30-21.00. Här följer lite information om banden: BODEBRIXEN (Denmark) It's hard to believe that this will be Bodebrixen's first show in Sweden! It's about time that the Swedes finally get to experience Bodebrixen's mix of irresistible melodies, electronic beats and synth euphoria. Described as "the most important undiscovered band from Denmark" they play truly beautiful and dark pop music, perfect for welcoming the summer!
Bodebrixen will be performing at the opening at 19:30.
Listen here!
GOODTIME (Ireland)
Goodtime's music is awash in dark atmospheric synthesizers and reverbed guitars, all built around his trademark honest lyrics and timeless melodies. Think of War On Drugs mixed with Fleetwood Mac. This will be Goodtime's first concert in Sweden since moving here from Ireland just over a year ago. He has played with Mount Eerie, Smog, Midlake, Cass McCombs and Bonnie Prince Billy. Goodtime will be performing at the opening at 18:30.
Listen here!