"She is handsome and well proportioned" The Blackburn standard, Wednesday, August 27, 1851″
En utställning av Mattias Olofsson 3-26 maj 2013.
Vernissage fredagen den 3 maj kl 17-21.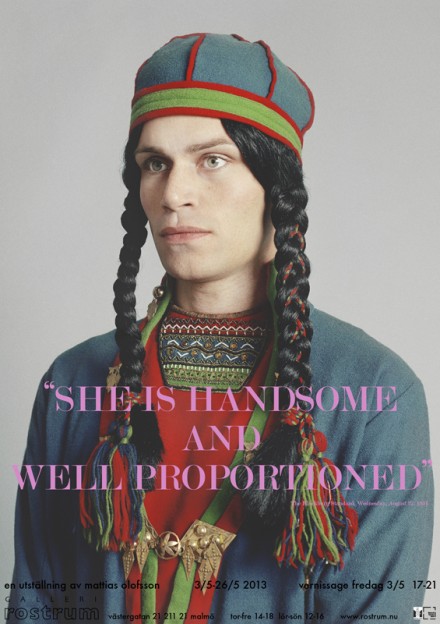 Mattias Olofsson är född 1973, han bor och arbetar i Umeå. Han gick ut Konsthögskolan i Umeå 2004 och har ställt ut på ett flertal större utställningar både nationellt och internationellt. Senaste internationella utställningen var 2011-2012, The Global Contemporary Art Worlds After 1989, på ZKM, Karlsruhe.
Mattias Olofsson skriver:
Citatet "She is handsome and well proportioned" betyder för mig att hon är ungefär som oss, hon är inte vanskapt. Citatet uttrycker också en syn på kroppen i förhållande till ett rådande ideal. Till tonerna av en vacker speldosa får besökarna i utställningen följa det allmänna intresset för Stor-Stina, inte bara mitt eget. Christina Catharina Larsdotter levde mellan 1819 och 1854. Hon växte upp i en by som heter Brännäs i södra Lappland. Hon slutade aldrig att växa. Hon dog 35 år gammal två meter och tio centimeter lång, femtio centimeter längre än medellängden på den tiden för den samiska befolkningen. Hennes liv som "attraktion" runt om i Europa har dokumenterats i Åke Lundgrens bok Långa lappflickan: sägnen om Stor-Stina (1981). Genom att låna den historiska personens gestalt undersöker jag det utanförskap som ett ovanligt utseende kan leda till. När jag ikläder mig den sorts dräkt hon skulle ha burit upprepar jag en tradition eller historia och skapar samtidigt en förskjutning med referenser till bland annat dagens cross-dressing. Förskjutningen blottar hur traditioner och historia befäster normen genom att minska utrymmet för vad som är accepterat som normalt.